Fitness Testing Session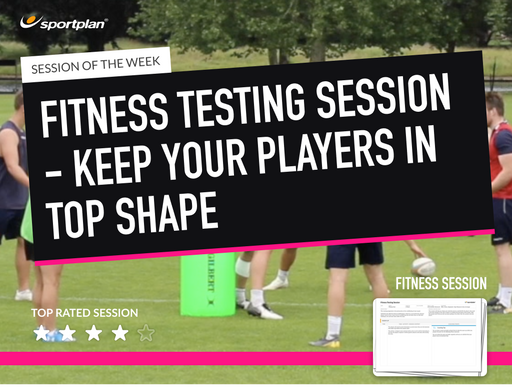 To get your players back in top playing form this fitness testing session works on all aspects of your players' rugby fitness:
Aerobic and Anaerobic Fitness, Flexibility, Power and Strength
Why Test?
It gets your players back into shape, encourages them to take personal responsibility for their own conditioning training and provides you, the coach, with a record of your players' fitness.
Using the bleep test and the timed 3km run will allow you to have definite measurement of your players' fitness and allows you to accurately test your players at a later date in the season, plotting their progress throughout the season.
What's in the Session?
Starting with a thorough warm-up your players will be put through their paces, running, jumping, stretching and then some more running for good measure. Players will be encouraged to work hard, motivating themselves to outperform their peers and pushing themselves hard in this elite player training session.
By the end of this session you will not only be left with a team of exhausted players, you will also have a clear indication of your players' fitness.
Session Ratings:
16 ratings with 5 comments (see below)
Session Comments:
Vicki Hudson




United States of America
Comment:

Not fully ready made, requires some customizing.
Dave Rhydderch




Canada
Comment:

Great stuff, would like to see more upper body strength stuff.
Nick Bousie




Australia
| | | |
| --- | --- | --- |
| | | |
| | | |
| | | |
| | | |
Rob Emery




South Africa
Comment:

i think it is great
gary conway




Ireland
Comment:

very good used with adults very beneficial